Quick Navigation:
---
Anger Management for Men and Women
Emerge From Anger Counseling Center offers various small groups for men and women who have engaged in perpetrating domestic violence. Clients learn anger management, stress management, relaxation, communication, coping, self-awareness, and parenting skills.  EMERGE offers morning and evening groups for court-referred and non-court referred clients.  Groups are on-going and court referred clients usually attend 52-weeks.
The group schedule is as follows:
Men                                                                                     Women
Monday 6 – 8 pm                                                             Monday 6 – 8 pm
Thursday 6 – 8 pm
Saturday 9 – 11 am
Fees are $35 per session.
Groups held at: 25050 Peachland Ave. #255, Santa Clarita, CA 91321, (661) 255-6634
For questions or to find out more about our domestic violence groups and Emerge From Anger, please visit: www.EmergeFromAnger.com
---
Child & Family Center
Providing Behavioral Health Services to Families and Children
Hours: Monday – Thursday from 8:00 AM to 8:00 PM and Friday from 8:00 AM to 5:00 PM
Children & Teen Services
Crisis Services:  Children and youth up to age 18, who have expressed suicidal or homicidal thoughts, or have severe behavioral problems that put themselves or others at risk of harm are seen immediately for crisis intervention, or assistance with hospitalization.
Outpatient Therapy:  Services include individual, group and family psychotherapy for children, adolescents and their families.
Drug and Alcohol Treatment:  Adolescents who have both emotional issues and are using drugs or alcohol are provided prevention, treatment and recovery services at the Center.
In Home Services: Sometimes the best or most convenient place to provide services is in the home.  Child & Family Center provides intensive in-home mental health services to children, teens, and transitional age youth ages 16-25 and their families.
School Based Services:  Child & Family Center provides counseling and mental health services on various school sites in the Santa Clarita Valley for elementary, middle and high school students with emotional problems.
Family Violence:  Children who grow up with violence in the home face many lifelong challenges; including difficulties in school, becoming a victim of abuse or assault, and harm to their physical, emotional, and social development.  In addition, the single best predictor of a child growing up to become an abuser or victim is having grown up in a home with domestic violence.  Child & Family Center is working with children and families to break the cycle of abuse. To access services specifically related to domestic Violence or for DIVERT call Carol Bollar (661) 255-6847 ex 3163.
Child Abuse Prevention:  The Center offers help for abused and neglected children who are at risk of being removed from the home. Therapists work with the entire family to build upon their strengths, empowering them to succeed.
Adults Services
Outpatient Therapy:  Services include individual, group and family psychotherapy.
Parenting Education:  A variety of parenting classes tailored to specific children's age groups.
Family Violence: Parenting groups helping parents who have experienced domestic violence to understand the impact on their children. To access services specifically related to domestic Violence or for DIVERT call Carol Bollar (661) 255-6847 ex 3163.
Contact: www.childfamilycenter.org or call: 661-259-9439
---
College of the Canyons
The College of the Canyons (COC) Student Health & Wellness Center provides accessible, affordable Health & Mental Health Services as well as wellness activities, health & mental health education, outreach and case management services for Students attending COC.
Services are available at both the Valencia and Canyon Country Campuses.
Canyon Country Campus Services: Monday, Tuesday and Wednesday only
Valencia Campus: M-Friday,  closes at 12:30 on Fridays
Free Personal Counseling: available to students who may be experiencing a domestic violence issue or other mental health issue such as depression or suicidal thoughts, trauma, stress and anxiety, depression, relationship problems, sexuality, drug and alcohol, eating disorders, mental illness, family and academic problems, etc.
Domestic Violence and Relationship  Counseling: A specialized program for Survivors of Domestic Violence and troubled relationships hosted by the Student Health & Wellness Center. In collaboration with the Domestic Violence Center, this service offers support and information on coping with the effects of unhealthy relationships and other women's issues for COC students. Individual sessions can be scheduled through the center or SCV Domestic Violence Center for Friday mornings in the Student Health & Wellness Center.
The Center also hosts Resource Fairs, Provides Mental Health First Aide Training, Trainings on Sexual Assault and Suicide Prevention and LGBTQ SAFE Zone trainings. The center also provides health care enrollment services and linkages to community providers as well as case management services, and offers a Peer Counseling Program.
Resources and agencies located on campus:
The Child & Family Center
Child & Family Guidance
The Domestic Violence Center
Strengths United with linkages to the Family Justice Center
The VET Center
Northeast Valley Health Corp
Sam Dixon Health Center
For More Information Call the Student Health & Wellness Center COC 661-362-3259 or visit the website.
---
The L.A. District Attorney's Office – Santa Clarita Valley
Services Related to Domestic Violence:
Victim-Witness Assistance – available in courthouses and police stations to assist crime victims who
suffered injury or who were threatened with injury.  Victim service representatives provide assistance and resources to help keep victims and their children safe and counseling referrals to address the trauma of domestic violence. Victim-Services Representatives help victims obtain restitution, provide crisis-intervention services and necessary referrals to crime victims and their families; assist in requesting protective orders; guide crime victims through the court process; help arrange emergency shelter, food and clothing; and assist in filing for compensation through the California Victim Compensation Program. Victims with police reports on file may be eligible to receive compensation for qualifying losses and expenses related to the crime such as loss of wages and relocation, medical and counseling expenses.
Victim Impact Program – a specialized unit within the District Attorney's Office that handles
cases involving vulnerable victims, such as domestic violence, crimes against children, sexual assault and elder abuse.  In domestic violence cases, a specially assigned VIP prosecutor handles the case from beginning until end.  The VIP prosecutor works closely with victims of domestic violence and makes sure the victims understand the criminal justice process and encourages them to seek assistance and help in order to end the violence.
Please contact: District Attorney's Victim-Witness Program 1-800-380-3811.
---
The Domestic Violence Center of Santa Clarita Valley
These are the programs and services offered by the local Domestic Violence Center:
24-Hour Crisis Hotline – Domestic violence crisis hotline staffed by trained DV Advocates-call: 661-259-HELP (4357)
16-Week Court Mandated Domestic Violence Education Class – 16 weeks of topics that educate victims of domestic violence to understand their choices. Group facilitators are trained DV Advocates
Support Groups Available in English and Spanish – self- esteem and co-dependency groups facilitated by trained DV Advocates
Court Advocacy Trained DV Advocates – assist in writing Temporary Restraining Orders and when available accompany clients to court – both paid and volunteer.
Temporary Restraining Orders – DVC is a Domestic Abuse Self Help Center supported by Neighborhood Legal Services
30-Day Domestic Violence Emergency Shelter – Provides a safe secure location for victims of domestic violence staffed by trained DV Advocates
Peer Counseling Crisis Counseling – by trained DV Advocates
Domestic Violence Counseling Education – regarding how to identify a Domestic violence relationship facilitated by trained dv Advocates
A Window Between Worlds Art Expression – for Adults and for Children Using the arts to express deep feelings related to domestic violence facilitated by a trained Windows teacher and DV advocate
Teen Dating Abuse and Sexual Assault Outreach – Teen education programs aimed at helping teens avoid and escape abuse.
California Domestic Violence Advocate 40-Hour Training – Open to those who wish to serve as advocates for DV victims in September and February. There is a $150 fee for the class – please call DVC directly to sign up.
The Clothesline Project Community Education – Program is a national project that bring awareness about violence against women to communities in which individually decorated shirts are hung to represent a different aspect of domestic and family violence.
Womanspace (in partnership with COC) Support Group Teen – group on healthy relationships facilitated by a trained advocate
Active Parenting Class – 16 week video series spanning infant through teen parenting
New Kids Group Social skill building group – for school age children facilitated by a trained DV advocate
Self-Esteem Group – (both English and Spanish) Building self-esteem one day at a time facilitated by a trained DV Advocate
SCV Women's Empowerment Support Group – How to move beyond victim to survivor facilitated by a trained DV Advocate
Codependency Support Group -Taking a close look at behaviors that lead to unhealthy relationships facilitated by a trained DV advocate
A Woman's Way to the Law Class – How to understand the law in how it supports victims of domestic violence facilitated by a DV Court Advocate
Year-Round Volunteer Opportunities please call 661-259-8175
For more information visit: www.dvc-scv.com  or call 661-259-8175
---
Santa Clarita Valley Mental Health Center
Many who are in a domestic violence situation may also be struggling with issues such as depression and anxiety.  People can receive treatment for those issues through the SCV Mental Health Center, which may assist them with dealing with their domestic violence situation.
The Santa Clarita Valley Mental Health Center (SCVMHC) is a directly-operated Los Angeles County Department of Mental Health (DMH) clinic.
Since 1974, the SCVMHC has provided services to individuals 18 years of age and older who are experiencing mental illness.
Services are provided by a trained, experienced, multi-disciplinary treatment team that includes Psychiatrists,
Psychologists, Nurses, Psychiatric Technicians, Clinical Social Workers, Medical Case Workers, and an Occupational Therapist.
Services are available in the following languages: English, Spanish, Russian, Farsi, Hindi and Tagalog.
Services are provided on a sliding fee scale basis. Medi-Cal is accepted. The Santa Clarita Mental Health Center is a CalWORKS and GAIN provider.
Services Offered:
Mental Health Information and Referrals
Assessment, Emergency Evaluations
Crisis Intervention
Individual Treatment
Group Treatment
Case Management
Co-Occurring Disorder (Mental Health Substance Abuse) Treatment
Medication Evaluation and Management
Psychological Evaluations
Vocational Assessments and Counseling
Regular business hours are Monday—Friday 8 a.m. – 5 p.m. The Santa Clarita Mental Health Center offers some groups and, by special arrangement, individual appointments on Tuesdays until 8 p.m.
DMH has a call-in center that operates 24- hours a day, seven days a week including all holidays. The call-in center is available for after hours (5 p.m.-7:59 a.m.) and weekend emergencies. DMH ACCESS can be contacted at (800) 854-7771.
---
Strength United
Strength United provides comprehensive services for individuals of all ages who have experienced child maltreatment, domestic abuse and sexual violence.
Offices are located in Newhall, Northridge and Van Nuys, services include:
Twenty-Four Seven Support and Referral Line
Accompaniments to Forensic Medical Evidentiary Examinations
Individual Family and Group Counseling
Support Groups for individuals who have experienced domestic abuse and sexual violence, and for parents of sexually abused children
Parenting Classes
In Home Counseling and Parent Education
Prevention Education – Teen Dating Violence and Sexual Assault prevention education
Advocacy, Case Management, Court Accompaniment and assistance with restraining orders
Learn more about Strength United in this brochure: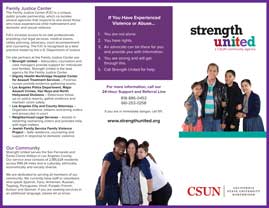 Contact Information:
Strength United
22620 Market St.
Newhall, CA 91321
www.strengthunited.org
24/7 Hotline: 661- 253-0258
Newhall Office Line: 661-414-0000
---